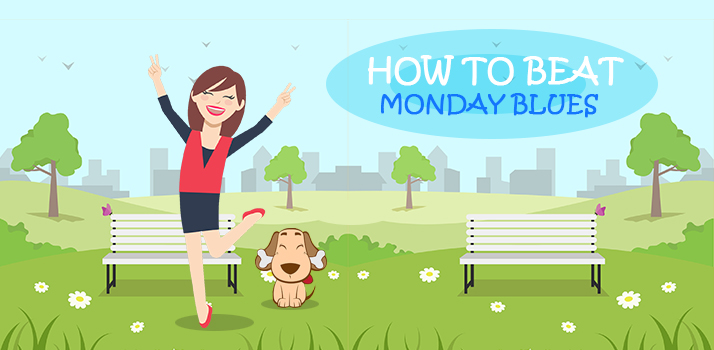 Monday, which according to International Standard ISO 8601 is the First day of a week, often turns out to be the most difficult day for most of us. Getting back to the grind after a relaxing or eventful Sunday is indeed very hard and Monday blues become inevitable for all those who have especially had an exciting weekend. But no matter what, you simply cannot run away from Mondays! So following are some smart ways that you can apply to beat your Monday blues.
Make sure that you have a very happy and happening weekend. While you indulge in the little joys of life with your friends and family, just prepare yourself mentally that you have to carry on with the holiday smile the next day when you are back to work. You could even prepare a to-do list for your Monday. This kind of a positive attitude would help you to beat the boredom and frustration that Mondays bring along.
Partying is good for your mental health and physical health as well if you are able to check yourself in a mature way. You should try not to stretch your parties till late on Sunday nights. In order to get back to work on Monday, you need a sound sleep the previous night. You must feel refreshed when you are up from your bed on Monday mornings.
Positive attitude is the key to solve even the hardest of problems. Try to wear a smile when you get up every Monday morning and thank God enough for giving you another day to be in this beautiful world. Music could also be a strong inspiration to drive you to work; so try and listen to your favorite numbers on your way to work.
Breakfast is the most important meal of the day. This should be remembered especially on Mondays. Never try to skip your breakfast. Instead, eat a wholesome breakfast so that you can kick start your week on a happy and healthy note.
Your outfit can make or break your mood. So Mondays should always be the days when you wear the best of your outfits to work. This would make you feel good from inside, boost your self-confidence and reflect your happiness in your body language as well. No matter how casually or fashionably you might have dressed up on the weekend, Monday should be the best ever dressed day of the week!
Do you have a pet? If you have one, then you already have got the best way to beat your Monday blues at your disposal! Spending some quality time with your pet could immediately take away your negative feelings and refresh you.
Happiness doubles when shared. So make it a point to bring a smile on someone's face at work, especially on Mondays so that you can have double the joy. This kind of a situation could lift your spirit and elevate your mood.
Last but not the least, always keep the Monday schedule light and also have a post-work plan on Mondays. Mondays are typically busy days at work. It could be good if you could schedule some important meetings on Tuesdays and Wednesdays, keeping the Mondays relatively light. Also, try and have some exciting post-work plans on Mondays. This could keep you perked up throughout the day.